News
The Watering Hole: Our ITAV Founding Story
By: Tara Shedor, Director of Communications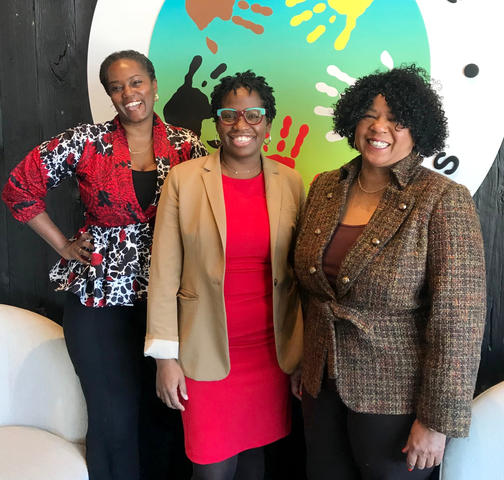 In a new video premiere in honor of  Women's History Month, and to kick off their monthly donor campaign, the founders are releasing a short film sharing their origin story. Those familiar with ITAV may be surprised to learn in the video that the idea for building a culturally affirming space for African American children came to Nakisha when she was just twelve years old.
The Watering Hole
After a life changing trip in her youth to the former Austin neighborhood Shule Ya Watoto (Swahili for "school for children," founded by Harold E. Charles, who's more commonly known as Baba Hannibal Afrik) , Nakisha explains in the video, "I knew at twelve years old after having that experience, that that was the experience that I wanted to give to every young person I ever encountered."
Years later, in 2004, It Takes A Village Child Care Services was founded in Chicago's West Humboldt Park community and began servicing forty-seven at-risk children and their families. Over the years, ITAV has developed a reputation for delivering holistic instruction and comprehensive social support services of the highest standards to meet the educational, physical, and mental health needs of their students and families.
ITAV continued to grow from a standalone preschool to include two other independent early learning centers and Chicago's premiere social justice elementary school, Village Leadership Academy, located in the South Loop. ITAV schools now serve more than 500 children and their families from Chicago's south and west sides annually, and have enabled over 335 students to travel to countries such as Ghana, Costa Rica, and the Democratic Republic of Congo.
ITAV's programming has further expanded to include an early childhood workforce  training program and college admissions assistance program for high school students. Throughout the pandemic, ITAV leveraged their extensive community partnerships to host multiple public vaccination clinics and free diaper distribution events to meet the evolving demands of the community. 
Be inspired by three African American women making history today! Watch their journey, the Watering Hole, to celebrate Women's History Month, and honor  their commitment to Chicagoland families by joining the Village today as a monthly donor at just $18 a month.