Blog
A Teacher's Duty: Activism as Education
By: VLA Teacher, Silvia Gonzalez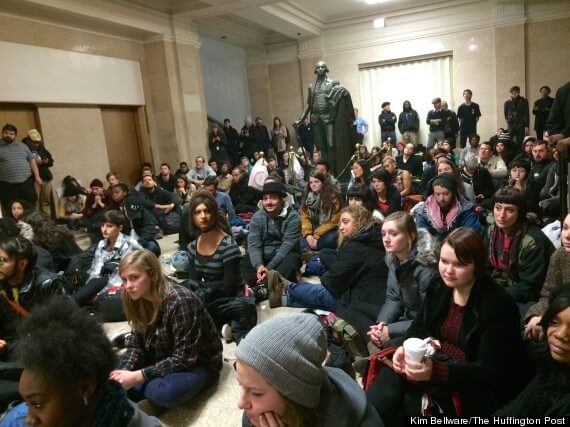 The BYP 100 activists and cameras present immediately turned to our students. Though we might have been a little overwhelmed by the attention, I know we were excited to learn from other activists in our own city.
We started off by singing a song about freedom fighters and the crowd was asked if there were any heroes we wanted to acknowledge—people that fought for justice either past or present. Our students raised their hands right away. While some remembered Harriet Tubman and Dr. Martin Luther King, Jr., one student acknowledged our very own social justice educator, Ms. Harris.
This moment made me grateful to be working in collaboration with a group of dedicated educators and administrators who are committed to active, relevant, and liberatory learning. The fact that we organized students in the middle of the day to join a protest at City Hall made me realize that we are not only learning about history, but also making history—actively shaping our present as we work to form and cultivate our futures. This is a beautiful responsibility—a labor of love—to share with young, powerful students and hard working, dynamic educators.
When we came back to the school, we held a mini-assembly with our entire student body for student leaders to report back and share what they learned at the protest. We opened the floor to engage in courageous conversation about race, the policing and profiling of Black and Brown bodies, student encounters with police, activism and the role of protests, and their overall feelings on Ferguson and discussions they've had at home around the verdict. We talked about the important role that education plays in developing their perspectives and amplifying their voices and their ability to both imagine and create change within our society.
Our school provides the unique opportunity for students to critically interrogate history and contextualize it within current events, and I don't take this for granted. In a city where 39% of the city budget goes towards the Chicago Police Department, while only 6% goes towards community service, I have a duty to use relevant and critical curriculum. In a system that often renders empowered narratives of people of color invalid, even transgressive, I have a duty to make those stories known and raise my voice in chorus with my students to make our realities known. I have a duty to fight alongside students by learning and sharing with them knowledge and skill sets to help them engage, grow, and evolve as leaders.
Hearing students speak up during our discussion, I was moved by the level of maturity and vulnerability they were willing to share. I have no doubt, that through our learning and activism, we are preparing for ourselves a transformative and healthy community.
Towards the end of our shared dialogue, we closed out as a community with Assata Shakur's affirmation entitled, "I believe in living." I share it here with you as a declaration:
i believe in living.
i believe in the spectrum
of Beta days and Gamma people.
i believe in sunshine.
In windmills and waterfalls,
tricycles and rocking chairs;
And i believe that seeds grow into sprouts.
And sprouts grow into trees.
i believe in the magic of the hands.
And in the wisdom of the eyes.
i believe in rain and tears.
And in the blood of infinity.
i believe in life.
And i have seen the death parade
march through the torso of the earth,
sculpting mud bodies in its path
i have seen the destruction of the daylight
and seen bloodthirsty maggots
prayed to and saluted
i have seen the kind become the blind
and the blind become the bind
in one easy lesson.
i have walked on cut grass.
i have eaten crow and blunder bread
and breathed the stench of indifference
i have been locked by the lawless.
Handcuffed by the haters.
Gagged by the greedy.
And, if i know anything at all,
it's that a wall is just a wall
and nothing more at all.
It can be broken down.
i believe in living
i believe in birth.
i believe in the sweat of love
and in the fire of truth.
And i believe that a lost ship,
steered by tired, seasick sailors,
can still be guided home to port.
– Assata Shakur
Enroll Now
Discover a partner in the future of your child. Enroll your scholar for the 2021-2022 school year today!