Blog
The VLA Student Experience with Director of Student Affairs, Tanekia Henderson
By: Tara Shedor, Director of Communications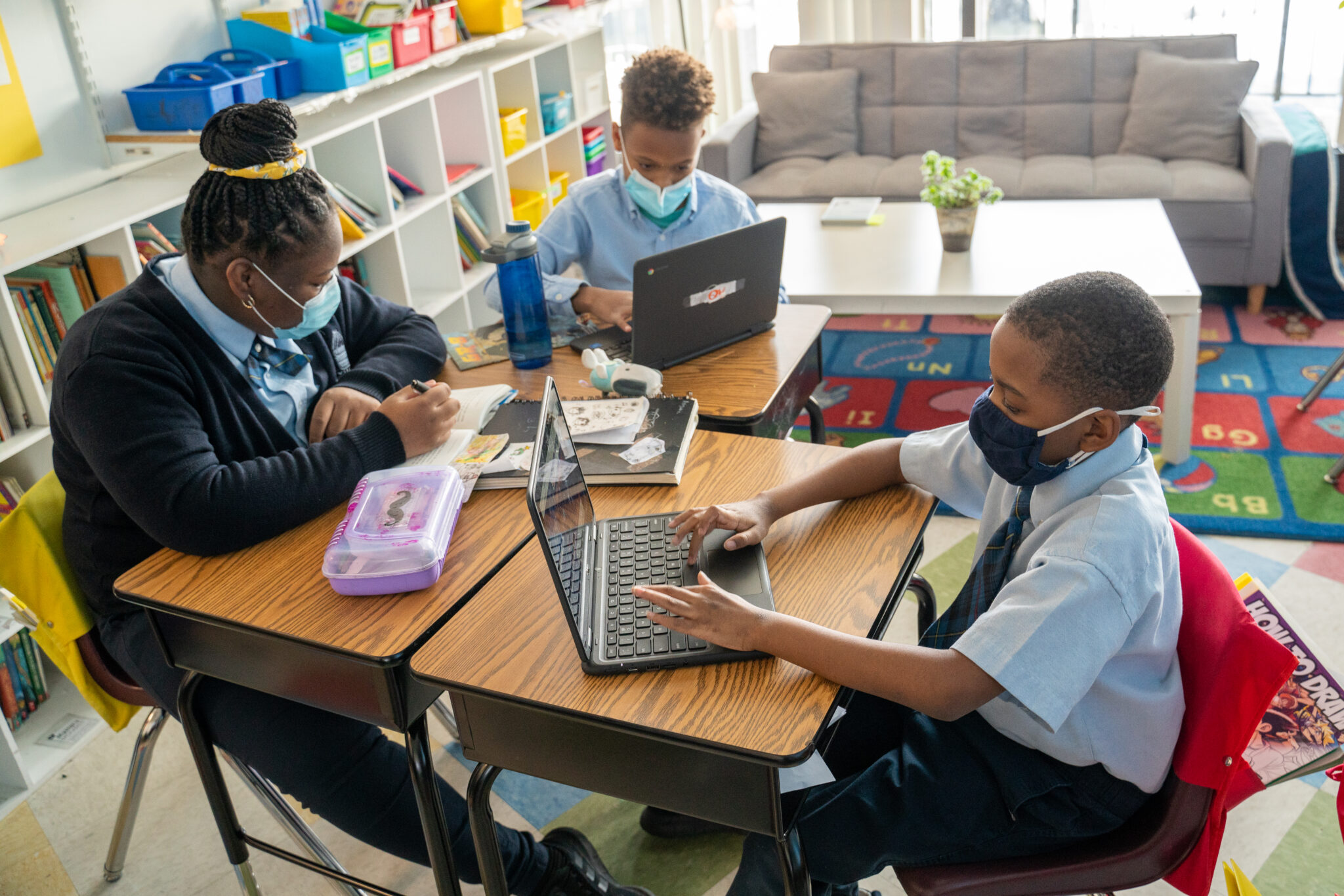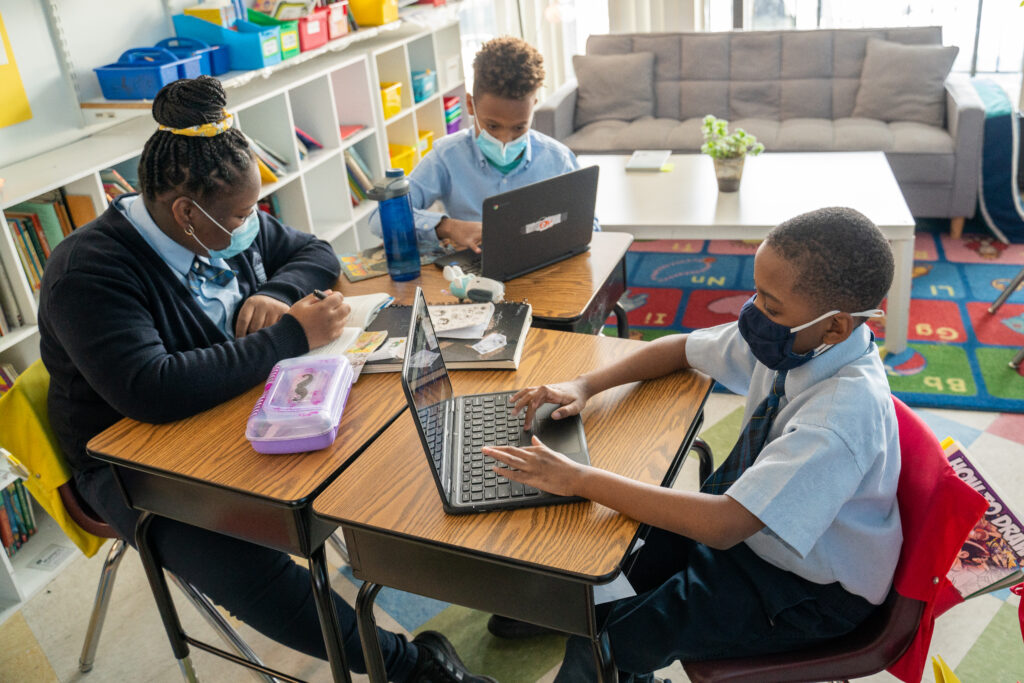 So how is the VLA curriculum unique?
Ms. Henderson: Our curriculum is very unique because we have designed three additional courses which distinguish VLA as a social justice school. One is our social justice curriculum in itself, which was developed by our co-founders and former teachers, as well as has been built upon by our current teachers, which seeks to teach our students of our history among other things.
The curriculum is broken down into what we call the G.R.A.P.E.S. of a country or continent; which is the geography, religion, achievements, political, economic, and social structures. It's a six step framework where students will learn about the history of themselves. Then, we navigate to the history of their communities and families. We extend the GRAPES model from continent to continent as well as to different countries. The greater focus of our social justice curriculum is to create students who are empowered by the information and begin seeing themselves as historians and budding sociologists.
Wow, that's awesome.
I feel like I'm learning something about VLA myself!
Ms. Henderson: Yeah! Secondly, we have our Grassroots Campaigns which is the foundation of VLA as well. With our Grassroots Campaigns (GRC), our students take a look through a different perspective or lens in their communities; they identify what is an issue or problem that exists and would love to change within the community.
Through that lens, our students are thinking critically about the problem in the ways they can promote change. Then, we take a different eight step framework. First, with the help of their teacher, students have to identify what the problem is. Then, they start to dig a little bit deeper by verifying why the problem exists. Who may benefit from the problem, and who's affected by the problem within the community? They start to create different goals or actions that they would like to accomplish.
Through the GRCs, they're making themselves as well as others consciously aware of the problem which exists with the community. Through their goals and actions, students find ways to change that problem. This comes with the help of their parents, their teachers, and also potential allies or organizations who are already doing the groundwork. It is where our students really begin transforming and advancing their community, nation, and world. That's the second thing that makes our curriculum very unique.
Thirdly, it's the World Scholars Program. With the World Scholars Program, we've taken our social justice curriculum as well as our GRC, and blended it. Our students get to learn about an additional country of study. We take it from ancient civilization to modern day, learn about influential people that helped to represent or make up that country, and the ultimate goal is for our students to then travel to the country at the end of the school year. Those are just three different components other than our core subjects we teach that help to make our curriculum unique.
So with the World Scholars Program, I know with the pandemic, it's probably been challenging getting to actually travel. Are there any trips planned for the future?
Ms. Henderson: Absolutely, yes in 2020, at the start of pandemic, our students were learning about Rwanda. This was our anticipated trip to travel to Rwanda. Unfortunately, due to the pandemic, we had to cancel our trip.  So we're  looking to possibly travel to Rwanda next year for the 2022 – 2023 school year.
Wow, that's super exciting. So anyone enrolling for the 2022, 2023 school year may actually have an opportunity to travel to Rwanda with VLA?
Ms. Henderson: Yes, they do. However, it is only offered to our third through eighth grade students. This is an extra course students can apply for and attend as an elective class that includes an educational exploration.
Wow, that sounds like an awesome opportunity.
And just to change subjects, I'm wondering:
Where do our eighth graders end up going to high school?
Ms. Henderson: That is a great question and transition. With VLA teaching a grade level above, it all depends upon the choice of where the child and the parent would like to go. Several of our alumni students are accepted into selective enrollment schools, which are the top ten CPS high schools. We also have a handful of students who select to attend a private high school because they liked how VLA provided a small space. There are also students who may select to go to charter or performing arts schools.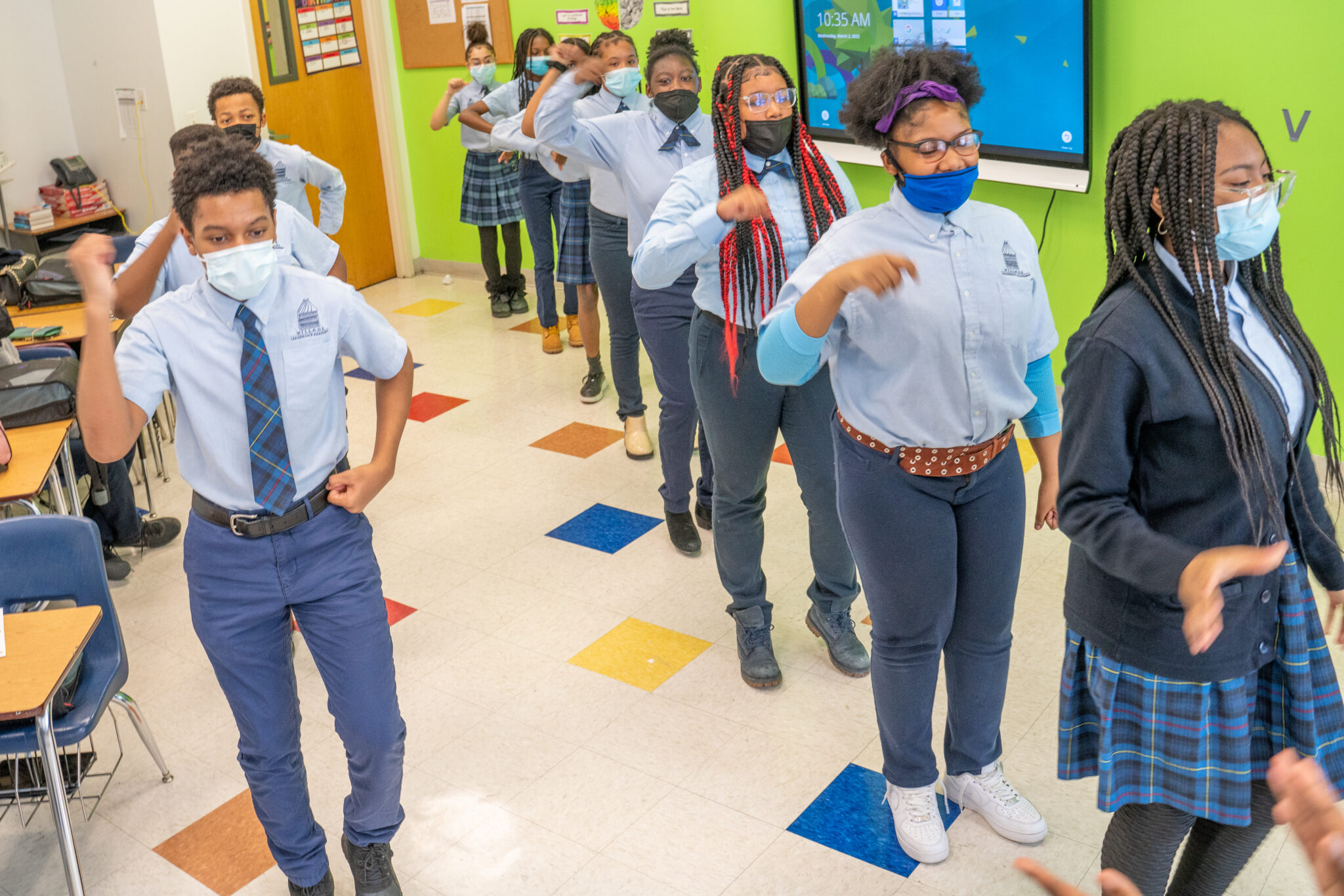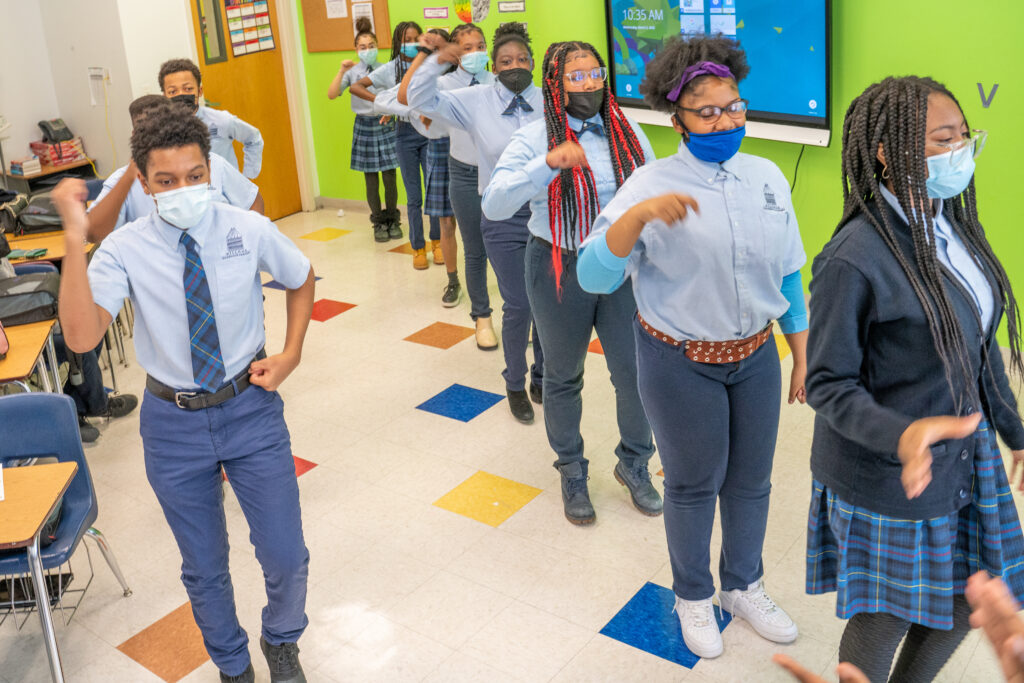 Do some eighth graders go to the same school as their friends?
Ms. Henderson: Absolutely. Due to some of our former and/or alumni students being together since preschool, they have created lasting relationships that have now extended into high school. We've now adopted the language of VLA creating a cradle to careers pipeline.
 What are some of the after school activities that VLA has?
Ms. Henderson: Our day is very unique here. I'll first give you our hours of operation, which are from 6:30 a.m. until 6 p.m. We provide before and after care for our families. Our instructional time begins at 8:30 a.m. with a quiet time and transcendental meditation for our middle school students. We believe here at VLA that our students should be given the opportunity to be able to develop a sense of calmness and stillness, as well as mindfulness, before they begin their day. So with our quiet time, they're able to accomplish that from our kindergarten through eighth grade program. The instructional day is from 8:45 until 3:45 where they're engaged in instruction within their classrooms. 
After that, we offer our afterschool programming that is an hour from 3:45 until 4:45 p.m. Some of the activities we offer for our students are multiple genres of dance, STEM, and STEAM clubs for our students. There is also a zine, or magazine making club, that has been fantastic to watch as the kids make their own magazines or comics, which is a lost art in itself. We have other programming such as arts and crafts. Some of our middle school students are also participating in drumming, and we offer study hall. We give an opportunity for our students to gain more insight into their studies. We also offer a financial literacy course for our seventh and eighth grade students. That's just a list of some of our activities.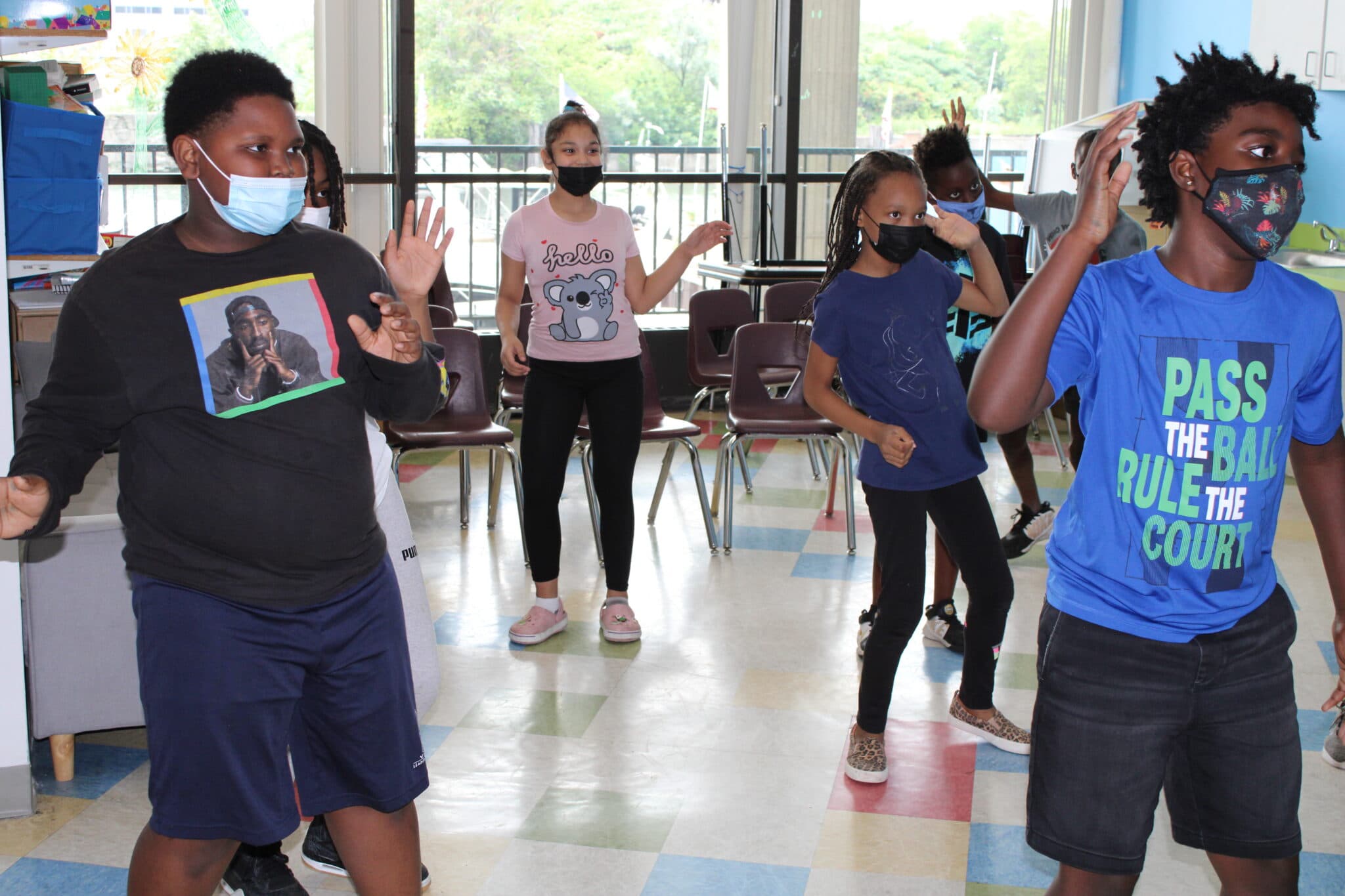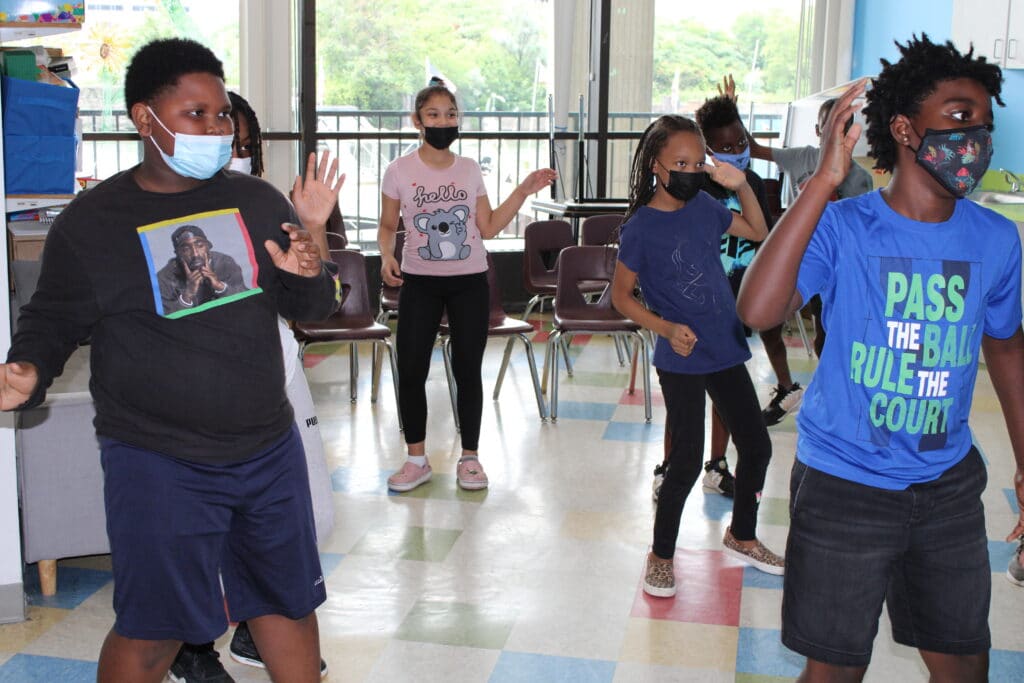 Yeah. You didn't even mention karate.
Ms. Henderson: Yes, we do! Our students also attend karate, 3 to 4 of the classes have karate as afterschool programming as well.
That is so cool. So just moving into the summer, I know there's a summer program as well. Can you talk just a little bit about that?
Ms. Henderson: We offer a seven week summer camp after the end of the school year known as the Chicago Explorers Summer Camp. It is a very robust summer camp which includes math and reading enrichment for our students every day because we know if the students don't use it, they'll lose it. We don't want our students to have the infamous summer slide.
There are multiple different activities they also participate in, such as a form of a fine arts class here at VLA. Then they transition towards the end of the day with their extracurricular activities which sometimes can be dance, art or karate. We also offer weekly field explorations which are our field trips. Summer camp runs from June 27 until August the 12th this year.
That's great. This has been so enlightening to learn more about VLA programs. Just to finish off talking with you today, how can parents learn more about VLA?
Ms. Henderson: There are multiple different ways that we would love for you to join our village and to find more about VLA! One is always going to our website where you can learn about our preschool and infant program as well as Village Leadership Academy. You can also join me virtually every week, Tuesdays and Thursdays. We offer virtual info sessions and also monthly open houses. Prospective families can always give a call here at the school. Our number is 312-675-0056.
Attend an info session!
Learn more about VLA's unique approach to K-8 education.